Researching and avocations
On the things that make me feel more alive
It is a late February weekend, where the grey skies have spat out rain, ice, and snow, in varying combinations all day. I almost called it lovely—somewhat feciously, I know, but also somehow in serious, because these days provide a good backdrop for thinking. Today's thinking is happening in a nearby library, where I have papers and books piled up around me: some for scanning, some for reading. Some written edits on a chapter revision, citations to write, some front and back matter to finish copyediting.
I never really thought that I'd be a research assistant. When I entered seminary, my first job on campus was in the library—a job I loved, and still do to this day (after all, I work full-time in libraries now!). I kept that job, but added another on to it my second year. I became research assistant to the academic dean, which meant that much like her job, mine was a mix of scholarly research work and institutional research/data work. Once I even helped coordinate a research symposium, handling the admin and emails and travel arrangements. While I'm not sure I'll ever need to pull out my knowledge of national academic regalia requirements again, that job has led to others, to the extent that my major side gig is as a freelance research assistant.
Thanks for reading home is where one starts from! Subscribe for free to receive new posts and support my work.
So, what is a research assistant? In many ways, that depends as much on the researcher who is hiring you (or the guidelines of the institution doing so) as it does on any formal job description. Different researchers have distinct ways of working: some need writing—or even ghostwriting
, some need editorial work (revision, copyediting), others need source location/bibliographies, or social media/website assistance. Being a freelance assistant means even more possibilities: I've written grants, drafted indexes, written white papers, and worked on a year-long archives research project. It's the kind of work in academia that makes me excited to be a part of that community, and I feel quite lucky to have the opportunity to do so.
Don't mistake me for an optimist, in these rosy descriptions: the reality of being a researcher part-time is that projects come in seasons of feasting or fasting, where sometimes the work comes when my full time work is in its busiest season, or other times, I wonder if connections have forgotten that I exist. I think this must be the way of all freelancers, but it is something to be aware of, should you want to venture into similar waters yourself.
This makes me think about the concept of vocation, and perhaps more particularly, avocation. Vocation, of course, is the word describing one's main calling—the major thing that you are pursuing throughout your life, in whatever job you are in. I spent a long time focused on discerning my vocation, which led me to seminary and then from parish work back to the library. However, as I get older, and as I see the past few years stretching away behind me, the more I wonder if it isn't the stuff of avocations that gets us through life. Working in a library and being a priest on weekends is my job(s!) at this moment, but what keeps me excited about life are the things on the side: that new project or new idea; a grant to word correctly, a garden to plant and water, and bread to bake.
While we can quibble about my including paid freelance work as an avocation, I think my main point is this: that engaging in all the fullness that life offers requires something else outside of our main commitments. Something that we are free to stop doing at any time but we do because we love it. Keeping my nose in books all day makes me a well-read person, but attempting to grow more herbs or move my body in swimming lessons keeps me a well-rounded person.
And so, I wonder, for you, what your avocations are? And if you don't know—what is obscuring their view? What is getting in the way of your exploring your full self?
---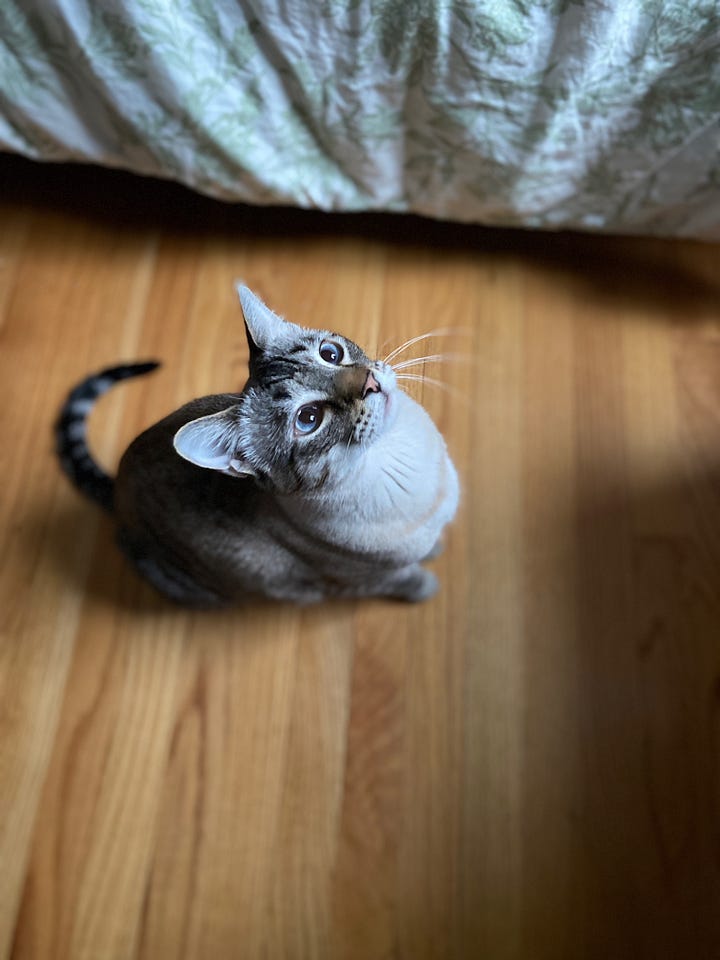 This week:
I've spent this week with other alums of my alma mater protesting the decision by their BoT to cut 9 majors, mostly in the humanities, including my former major and minor programs. I've heard rumors that my interview with press made the cut, but I haven't summoned the courage to watch myself! It's been a sad week seeing one's alma mater make such a drastic, and unnecessary, change.

I'm working on a research guide on the subject of my master's thesis (Englishwomen translators in the Reformation): ostensibly for the purposes of a library school assignment, but I am building it on a publicly accessible site so I can share it with others afterwards. Look forward to that in a coming email!

I am off social media for Lent, which is delightful and frankly refreshing. But, in case you share something with me and I don't respond, that is indeed why.
1
Lots to say here about the potential for abuse of RA's writing or ghostwriting—this is something where one should be very clear about what one is willing to do or not do for their researcher. For better or worse (or: ethical or unethical), this happens all the time in the academy.
2
… while still being enough of an outsider that I am not dependent on finding a tenure track job for my career to succeed!